Muster is April 21, 2023!
2023 Muster will be held at the Amarillo National Bank – Plaza 1 Skyline Conference Center.
410 S Taylor, 16th Floor, Amarillo TX 79101
Social hour with heavy hors d'oeuvres and donation bar from 5:30 – 6:30 p.m.
Muster program to commence at 6:30 p.m. including guest speaker, club scholarship recognition and Roll Call for the Absent.
For questions or more information, contact Jed Moorhead '07 at (806) 640-4234.
Special thanks to our Muster Sponsors:
Amarillo National Bank
Reed Beverage
Gold Level Sponsors:
        William "Bill" '57 & Poppy McCarty
Silver Level Sponsors:
Lewis Britt '78
Bronze Level Sponsors:
        Miles Forrester '87 & Mack Forrester '81 – In Memory of Carroll Mack Forrester '54
Travis Homer '92
John Faulkner '70
Charles Curl '77
Tyce Younger '15
Gary '74 and Paula Moore
Jed '07 and Alason '08 Moorhead
Todd '96 and Brandie '97 Morgan – Jostens Top of Texas
Muster Donors:
Colleen Faubion – In Memory of Dr. Billy Don Faubion '64
Max Faulkner '54
Whit Walker '86
Jennifer Auvermann '86, Keller Williams Realty – Amarillo
Brent Auvermann '86, Center Director, Texas A&M AgriLife Research Amarillo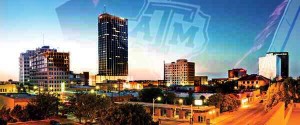 If you would like to donate to the Amarillo A&M Club Scholarship, please click here.
If you are already a member and just need to pay your dues, click here.