A special thank you to our



2019 Aggie Muster sponsors
Gold Level Sponsors:
Mr. Lewis Britt ('78)
Mr. David Johnson ('64)
Mr. William McCarty ('57)
Mr. Josh ('02) and Careese ('03) Wood
Silver Level Sponsors:
Mr. Miles Forrester ('81)
Mr. J.R. Gill ('53), B.J. Chennault ('04) and R.V. Plus
Mr. Gary ('74) and Paula Moore
Mr. Tom ('94) and Kristi ('94) Weaber
– Total Physical Therapy
A-1 Rocket Industries and Mr. Ryan Zimmer ('06)
Bronze Level Sponsors:
Miles Forrester ('81)
Dr. and Mrs. Robert ('71) Gerald
Mr. Huley Horn ('63)
Mr. Patrick ('02) and Dr. Mackenzie ('05) Weir
Thanks and Gig'em!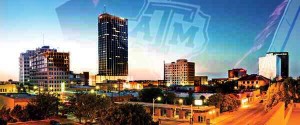 If you would like to donate to the Amarillo A&M Club Scholarship, please click here.
If you are already a member and just need to pay your dues, click here.