Muster is April 21, 2023!
2023 Muster will be held at the Amarillo National Bank – Plaza 1 Skyline Conference Center.
410 S Taylor, 16th Floor, Amarillo TX 79101
Social hour with heavy hors d'oeuvres and donation bar from 5:30 – 6:30 p.m.
Muster program to commence at 6:30 p.m. including guest speaker, club scholarship recognition and Roll Call for the Absent.
For questions or more information, contact Jed Moorhead '07 at (806) 640-4234.
Thanks and Gig'em!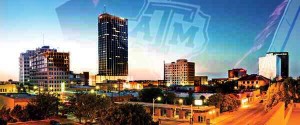 If you would like to donate to the Amarillo A&M Club Scholarship, please click here.
If you are already a member and just need to pay your dues, click here.