The Amarillo A&M Club invites you to



join us for Aggie Muster, Friday, April 21, 2017.
6:00 p.m. Social Hour (Heavy hors d'oeuvres)
7:00 p.m. Muster Program
Amarillo National Bank Plaza One
Skyline Conference Center, 16th Floor
410 South Taylor
Guest Speaker:
Col. Gerald "Jerry" L. Smith '82, USMC (Ret.)
Program Recognition with $50 or more donation
Mail money to Amarillo Area A&M Club
P.O. Box 51031
Amarillo, TX 79159-1031
For more information, please contact:
Kristi Weaber '94
(806) 654-4324
kweaber@mayfield-lawfirem.com
Thanks and Gig'em!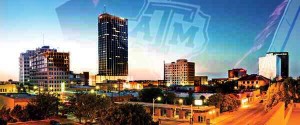 If you would like to donate to the Amarillo A&M Club Scholarship, please click here.
If you are already a member and just need to pay your dues, click here.